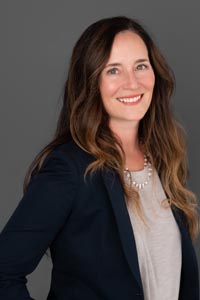 Ms. Vitello is a Partner at HKM in the firm's Portland, Oregon office. She is an experienced litigation attorney with significant experience handling complex litigation matters. She represents employees in all aspects of employment law.
Ms. Vitello is a New England native who obtained her undergraduate degree and her law degree from the University of New Hampshire. Jennifer has practiced law on both sides of the fence – first as an insurance defense attorney involving complex litigation in a wide range of areas including landlord/tenant law, premises liability, and construction defect. At the same time, she practiced as a plaintiff's attorney in personal injury and employment matters. Beginning in 2016, Ms. Vitello managed her own firm as a solo practitioner until she joined HKM Employment Attorneys where she practices exclusively employment law on behalf of aggrieved employees.
Ms. Vitello's passion is researching and drafting complex motions. Her experience as a researcher and writer make her a strong advocate on behalf of her clients. In addition to her writing and argument skills, one of Ms. Vitello's greatest strengths is her ability to work in a collegial manner with both co-counsel and opposing counsel to ensure the best possible outcome for her clients.
Ms. Vitello is also committed to serving within the community. After serving for years as the Chair of her neighborhood association, she now serves on the board of the St John's Bridge Lighting Committee, as the Community Liaison for the Portland Botanical Gardens and volunteers with the Frog Ferry.
In Ms. Vitello's free time, she enjoys gardening both tropical and northwest native plants, hiking, skiing, and trips to the Oregon and Washington coasts, where she avidly camps and shellfishes.
Location: Portland Office